LCloud services available in the polish public Cloud Services Provision System - ZUCH
31.7.2020 | LCloud
The services provided by LCloud met the security, process and organizational requirements of the Ministry of Digital Affairs and from 17 July this year. are available on the platform for Polish public administration – ZUCH. As a team of experienced experts in the field of cloud solutions, we provide projects tailored to the needs of each client. With the following titles: GCP Sell Service Partner, AWS Advanced Consulting Partner, APN Well-Architected Partner and APN Immersion Days Partner – we confirm our knowledge of the services and tools offered by global cloud leaders – Google and Amazon Web Services.
What is ZUCH?
" ZUCH is a simple solution providing principles of cooperation in accordance with applicable law. It is based on the provisions of the resolution of the Council of Ministers of September 11, 2019 on the initiative "Common State Information Infrastructure" (WIIP). "
Source: https://chmura.gov.pl/zuch
ZUCH was created with Polish public administration in mind – entities from the public finance sector, state organizational units without legal personality and others. You can find a detailed list of institutions that can benefit from ZUCH here. It is a platform used to implement the processes of offering and ordering cloud services for public organizations. Due to a number of requirements that must be met by suppliers present on it with their offer, the Ordering Party is guaranteed the highest quality of services provided and maintaining an appropriate level of security.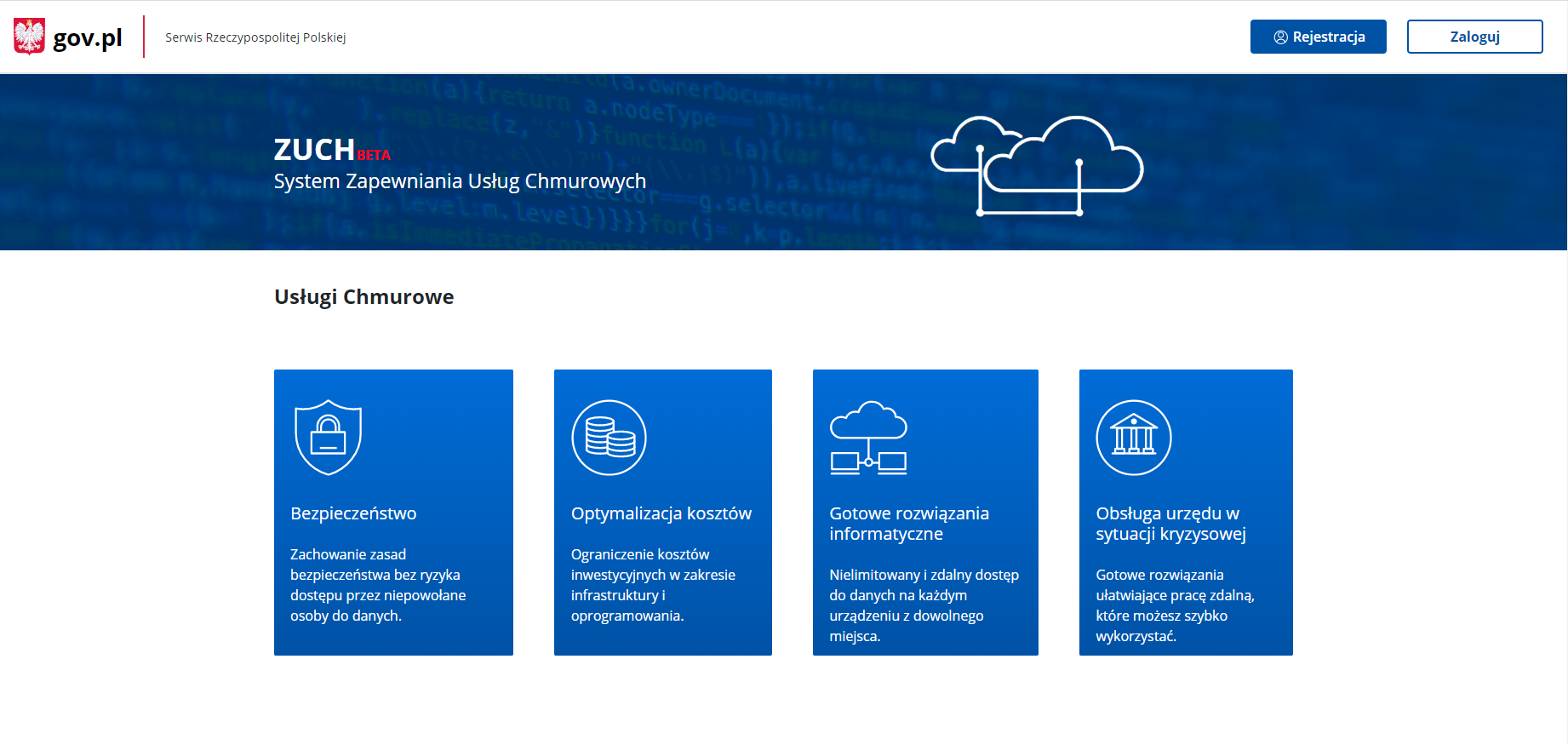 Verification of Vendors of cloud solutions
An important aspect mentioned earlier in the process of verification of entities providing solutions based on cloud computing. The entire process is associated with a number of requirements that must be met in order to be able to register as a verified Seller on the ZUCH platform. One of the most important requirements is compliance with the Standardy Cyberbezpieczeństwa Chmur Obliczeniowych (SCCO). They constitute a set of legal, organizational and technical requirements ensuring cybersecurity in cloud computing implementation models under the Wspólna Infrastruktura Informatyczna Państwa (WIIP) initiative.
The strategic directions pursued by the WIIP initiative include:
increasing the level of security of data processing and the provision of electronic services in government administration;

permanent reduction of fixed costs of data processing;

increasing the efficiency of spending funds in projects containing elements of IT infrastructure;

shortening the implementation time of new IT projects by the faster provision of the required IT infrastructure;

limiting the phenomenon of collecting the same data repeatedly in IT environments and removing technological barriers in the case of public registers;

the popularization of the cloud computing model as the main method of implementing the state's ICT systems (including the change of software development technology).
LCloud services on ZUCH platform
Cloud services on the platform have been classified according to 3 main categories:
Cloud Infrastructure Services (Cloud Hosting)
Cloud Infrastructure Services include services made available from public cloud computing infrastructure, used to build systems and applications together with support and security services. These are services provided in the IaaS, PaaS model, i.e. computing infrastructure and applications, container services, content delivery networks, warehouses and other data storage services (e.g. block and object space), databases, message queuing and processing, search and indexing, archiving, backup and disaster recovery, network services (including network as a service), load balancing, infrastructure and platform security, monitoring, distributed denial of service (DDoS) protection, firewall and intrusion detection and other infrastructure services provided in a model other than IaaS and PaaS.
As a part of cloud hosting, we implement, among others:
Support for Cloud Services includes all support services in the field of both Cloud Infrastructure Services and Cloud Software, i.e. selection of cloud services – planning (presales), designing cloud and hybrid IT solutions, configuration, implementation or migration of services and software in the cloud computing, quality control and performance testing of cloud services and software, management (continuous management) and security management of cloud services and Integrations, IP services (ISV), training and certification, licensing (e.g. optimization of licenses in the context of the use of cloud services).
As a part of cloud support we implement, among others: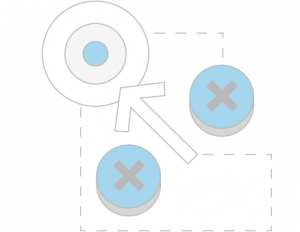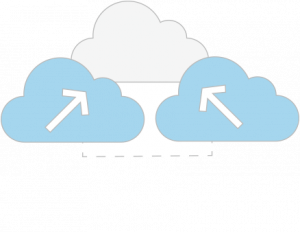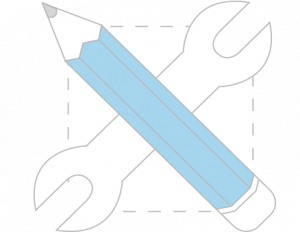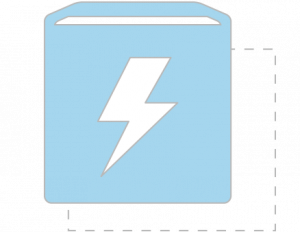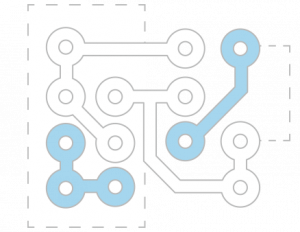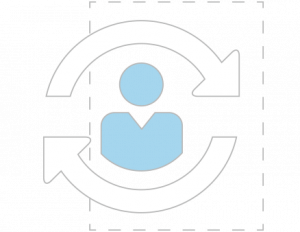 Cloud software includes ready-made IT solutions made available in the SaaS model, implementing specific functions and business processes ready for use by end-users, most often billed in the subscription model. These are complete solutions from various areas, i.e. accounting and finance, analytics and business analytics, application security, teamwork, creativity, design and publishing, customer relationship management (CRM), electronic document and records management (EDRM), healthcare, human resource and employee management, information and communication technologies (ICT), legal, marketing, operational management, project management and planning, sales, schools, education and libraries, development tools, transport and logistics.
Team LCloud specializes in designing multi-cloud infrastructures based on the best practices related to security while ensuring 24/7/365 support and monitoring of implemented solutions. This is just a part of the services we offer that we propose to public administration.
Within the three categories specified in ZUCH, we provide the following services:
A cloud of benefits for public administration
Understanding the regulations and expectations of public administration, we have composed a special offer of services that provides many values:
support in the migration process or building a safe and scalable infrastructure from scratch, designed on the basis of best practices;

unifying the methods of using cloud services;

cost optimization – support in the process of purchasing appropriate cloud services, reducing risk and unnecessary costs;

support and monitoring of the designed solution;

transparency and compliance with current legal requirements – the unification of security standards.
In addition, public sector entities gain the help of a team of experts who evaluate and propose the best option to migrate the existing system. 
Check what challenges we faced and what we achieved using appropriate solutions by visiting the Case Study tab on our website or contacting us directly at kontakt@lcloud.pl.