LCloud - Top IT Outsourcing Company!
18.12.2018 | LCloud
From cloud migration services to IT consulting, we have been helping our clients navigate through the complicated world of IT and transform their online businesses to be more efficient and up-to-date. Our team at LCloud specializes in cloud consulting, and IT services management oriented around the AWS environment and has completed over 200 projects for companies all across the globe!
Recently, our work in the IT industry has gained the attention of Clutch, ratings and review firm that provides rankings for B2B service providers. Clutch is a purely third-party company that provides unbiased reviews for these companies based on their expertise in their fields and the quality of their work. The Clutch analysts even go so far as to contact these firms prior to clients directly and use their feedback as a primary contributor to providing their ratings. The purpose of their platform is to provide a tool for any businesses who are searching for suitable partner companies in different industries and regions.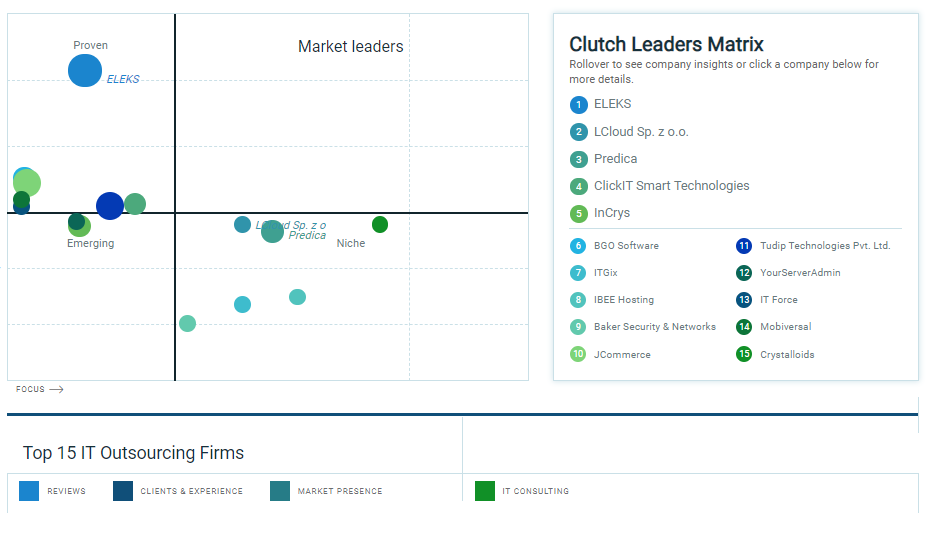 Source: Clutch.co
Based on the feedback of our clients, the Clutch team has accredited our company as being a leading IT outsourcing company of 2018! We take great pride in the work we provide our clients, and our ability to provide reliable IT solutions that exceed their expectations. On our Clutch review page, you can see opinions on specific projects that we have worked on, and direct testimonials from our clients.
Here are a few examples of what our clients have to say about our work:
"LCloud gave us quality work that was well thought out."

"What I value the most about them is their proactivity in thinking things through for us. They've seen things that work and don't work, and they apply that experience to our solution."

"LCloud's technical acumen is top-notch."

"They're ambitious, sharp, and creative thinkers, and they're technically superior.




I couldn't say anything better about the quality of work we've gotten from LCloud."
Apart from listing us on the platform, Clutch also wrote about us in their article (Top 15 IT Outsourcing Companies), which they placed on her profile on the Medium platform.
LCloud and Clutch are similar in that we both recognize that the client relationship is the most important factor in determining a company's performance. Having such positive testimonials from our clients and ranking so highly among companies in the industry serves as a terrific milestone for our company as well as a benchmark for our team.