LCloud becomes an authorized Google Cloud Platform Partner!
31.1.2020 | LCloud
We are pleased to announce that we have made another milestone in cooperation with Google.
In autumn we informed that we have become "Member of Google Cloud Platform". 
We have already met the required criteria and completed all formalities and thus obtained the official title of Google Cloud Platform Sell Service Partner.
The partnership with Google is a response to the needs of Polish clients in the field of cloud computing. This year, it is planned to launch the so-called GCP region, i.e. a team of data centres in which customers will be able to store their data. This fact may be particularly important for regulated industries.
Google Cloud Platform services also complement the LCloud offer in the field of multi-cloud solutions.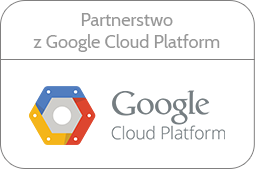 Cooperation of clients with an authorized partner guarantees the reliability of certified knowledge of engineers and solid experience in successfully implemented projects.
The partnership with Google Cloud Platform is our next strategic partnership with leaders among public cloud computing providers.
We have previously obtained and maintained the status of AWS Advanced and Well-Architected Partner.
If you are considering migration to a public cloud, we will help you plan the process comprehensively, design an architectural solution, prepare and train a project team, if necessary carry out the whole process for you, and if that is not enough – we will permanently take care of your resources in the cloud.
Let's talk about Google Cloud Platform.