How does the AWS Cloud Adoption Framework support cloud migration? - part one.
16.3.2021 | LCloud
Data migration to the cloud and the journey itself is a demanding process. Thinking about the possible problems, Amazon Web Services has prepared a helpful solution – AWS Cloud Adoption Framework. We present the first article, which will be an integral part of a series of posts, describing in detail each perspective of the AWS CAF.
AWS Cloud Adoption Framework – Governance Perspective
Briefly, the AWS CAF is a framework developed by AWS to help organizations develop and execute effective plans to ensure that their cloud adoption journey is successful. Each perspective is designed to create workstreams that elucidate gaps in existing skills and processes, helping close these gaps and provide the skills, knowledge, and experience to move forward with the cloud adoption journey.
The AWS Cloud Adoption Framework is divided into six focus areas, one of which is Governance. As an aside, the other five are the Business, People, Platform, Security, and Operations Perspectives. We will get back to each of these in a separate post. Moreover, these six focus areas are divided into two: Business, People, and Governance perspectives focus on the organization's business capabilities, and the Platform, Security, and Operations perspectives focus on the organization's technical capabilities. 
While all six perspectives are equally essential in ensuring a successful cloud adoption journey, let's start by focusing on a deep-dive into the Governance focus area.
What is  IT governance? 
Cio.com defines IT governance as a "formal framework that provides a structure for organizations to ensure that IT investments support business objectives." In other words, it provides a robust structure that enables both IT strategy and business strategy to align with each other. 
The reason for the formal framework is to facilitate the adoption of IT governance best practices and produce measurable results towards achieving the objectives set out at the beginning of the governance adoption process.
Lastly, it is worth noting that there is a deeply intertwined relationship between IT governance and GRC (Governance, Risk, and Compliance). While they are similar, GRC is also the parent program that ensures that organizations meet the national and regional legislative requirements governing elements such as the General Data Protection Regulation (GDPR).
Governance as part of the AWS CAF 
As emphasized by the IT governance definition above, the AWS CAF Governance perspective aligns IT governance with organizational governance. It also focuses on the skills and processes needed to assimilate the IT strategies and the business strategies to ensure that the organization amplifies the value and decreases the risks of the cloud adoption.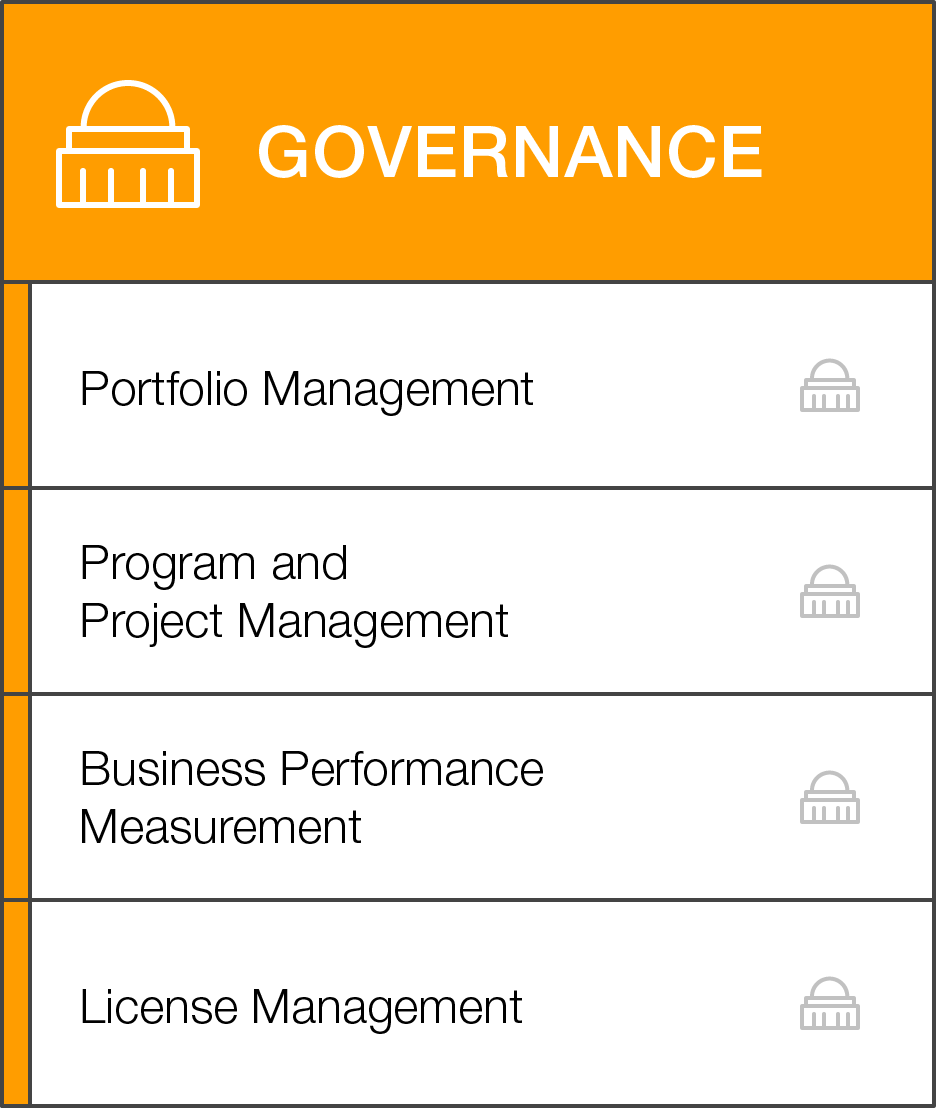 source: https://docs.aws.amazon.com/whitepapers/latest/overview-aws-cloud-adoption-framework/governance-perspective-prioritization-and-control.html
This Governance Perspective includes four principles:
Portfolio management.
The portfolio management's focal point is the organization's wherewithal to align IT projects, programs, and investments with its business goals. It is also a vital mechanism for determining how eligible current workloads are to be moved to the AWS cloud. Lastly, this principle prioritizes the workloads' move from legacy systems to cloud-based services.
Program and project management. 
The program and project management's focus is to consider the company's ability to implement several projects simultaneously to improve organizational performance and complete projects on time and within budget. The traditional Waterfall project management methodologies cannot keep up with the rapid pace of iterative changes needed for a successful cloud adoption journey. Therefore, it is essential to adopt an Agile (and Lean) project management model.
Business performance measurement.
Succinctly stated, the business performance measurement principle addresses the organization's capacity to measure and optimize business processes to drive organizational success. The move to the cloud provides employees with the opportunity to learn new skills and for the business to improve its process automation and optimization metrics. KPIs are used to measure business performance and to ensure that cloud-consumption is aligned with strategic outcomes.  
License management.
Cloud-based services and systems need to be licensed by the product owners. This principle defines the company's ability to acquire, distribute, and manage these licenses. 
Final thoughts about Governance Perspective
Governance is an integral part of the AWS CAF. Along with the other five perspectives, its role is to ensure that as organizations embark on their journey to move from a legacy architecture to a cloud-based architecture is successful. 
While it is possible to move to the cloud without using the AWS CAF, it is not advisable to do so. In short, cloud adoption will unfortunately be a failure. Thus, in order to learn more about utilizing the AWS CAF to ensure a successful journey to the cloud, contact our experts at kontakt@lcloud.pl. 
Article based on AWS Whitepaper: An Overview of the AWS Cloud Adoption Framework – Version 2.